Alabaster Pediatrics
Our friendly, knowledgeable staff works hard to make your visits to our office as smooth as possible. We've provided helpful information about our office on this page, including directions, hours, insurance and billing, payment options and financing.

Alabaster Pediatrics
1004 1st Street N
Suite 370
Alabaster, AL 35007
(205) 663-5547
Our location is on the 3rd floor of the Shelby Medical Plaza, adjacent to the main hospital of the Shelby Baptist Medical Center complex.
Office Hours

| | |
| --- | --- |
| Monday: | 08:00 AM - 05:00 PM |
| Tuesday: | 08:00 AM - 05:00 PM |
| Wednesday: | 08:00 AM - 05:00 PM |
| Thursday: | 08:00 AM - 05:00 PM |
| Friday: | 08:00 AM - 05:00 PM |
| Saturday: | Closed |
| Sunday: | Closed |
Closed daily from 12:30-1:30pm for lunch.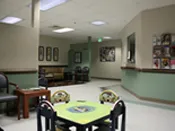 Click here for door to door driving directions
Appointments
Except for true medical emergencies, patients will be seen by appointment only . Appointments should also be made for each child in a family that will need evaluation by the doctor.
Schedule an appointment by calling 205-663-5547.

Please

call

to cancel

if you will be unable to keep a previously scheduled appointment so we can make it available to other patients.

Out of respect for other patients, please

do not "walk-in"

for a visit without having contacted the office first.
No Show Policy: Alabaster Pediatrics may choose to charge a $30.00 fee for any missed appointments or appointments that were not cancelled within 4 hours of the appointment time. After three missed appointments without notification, the practice reserves the right to discharge the patient.
It is our policy that children must be directly supervised by their parent or other responsible adult while in the office or on the premises of Alabaster Pediatrics. Click here to download our policy statement.
Arrive early. Please remember that all insurance requires that your insurance data be updated prior to each encounter. This usually takes a few minutes. If this is not done, your insurance may deny your claim. We do not want time spent on administrative requirements as it will limit your time with the doctor.
Patients that arrive on time are seen at their appointment time. Patients who have arrived on time will be seen ahead of those who arrive late. If you arrive late, we may need to shorten or reschedule your child's visit.

Call ahead if you are late or unable to make your appointment time. We will do all that we can to accommodate your child's appointment and to minimize the need to reschedule your appointment.

Late arrivals (>15 minutes after scheduled appointments) will be offered the next available appointment. In these cases, a no-show charge for the lost appointment may apply. While we will do all that is possible to accommodate this request the first-available appointment may or may not be on the day the appointment was missed.

Appointments for additional children should be made by phone prior to coming to the o

ffice. If you would like another child to be seen, please schedule appointments for both children by phone prior to coming to the office.

Turn off cell phones in the office and examination rooms.

A parent or legal guardian must accompany children for all Well Child Check appointments. In the event that an alternate adult must bring the patient, please ensure they have the necessary information regarding medication, intake, behavior, sleep habits, etc.
Emergencies and After Hours
Please Note: We recommend only board certified PEDIATRIC care for our patients. We strive to accommodate our patients during business hours as much as possible. However, there are conditions when urgent or emergent care needs to be given after routine business hours. In these situations please contact our office at 205-663-5547 and you will be directed on how to speak to a pediatric nurse for further advise on the care of your child and where to seek pediatric care if necessary. In actual emergent situations you will need to call 911 or present to the nearest emergency department.
In most cases we do NOT RECOMMEND or condone the use of NON-PEDIATRIC URGENT CARE facilities or NON-PEDIATRIC TELE-DOCS for our patients. We encourage our patients to contact our pediatric nurses for advise and to utiilize the pediatric facilities provided by Children's Hospital as discussed below. One of our pediatricians is always on call for additional advise and care if needed. For older patients or for less urgent conditions, it may be more appropriate to schedule an appointment at our clinic for the next morning. See below for further information:
During lunch and when the office is closed for holidays, the phones will be turned over to the answering service, which can contact the triage nurse or doctor on call for emergencies. We are committed to providing continuous medical care to our patients by being available to our patients 24 hours a day for emergency medical needs.
When our office is closed for evenings, weekends and holidays, our main number will be forwarded to our answering service. They will obtain your information and have a triage nurse at PHIL (the Pediatric Health Information Line at Children's Hospital) return your call. These personnel are trained to provide health information and advice to parents of sick or injured children. They document all calls and forward them to the primary care doctor's office to be added to the medical record. We will work together to determine if your child should be seen the next working day, or whether your child needs a more urgent referral to a Pediatric Urgent Care Center or to the Emergency Department at Children's Hospital.
The Children's Hospital Emergency Department is the recommended ED for all emergent pediatric illnesses or injuries. If our staff or triage nurse advises for your child to have an evaluation in the emergency department, or you feel your child has an emergent condition, you should go to the Children's Hospital Emergency Department if possible.
If you feel your child is in such distress that you cannot wait for a return call, call 911 or go directly to the emergency department of the nearest hospital. Appropriate 911 calls would be severe breathing difficulties, prolonged seizures, poisoning, severe bleeding, severe injuries, or injuries with loss of consciousness. Please leave a message with the answering service or office afterwards in order for us to perform appropriate follow-up measures with you, and also to prevent any referral problems with insurance.
It is our policy that no antibiotics, controlled substances such as ADHD medications, or narcotics such as cough medications with codeine will be prescribed over the phone. This applies to after hours also.
Hospital Affiliations
Children's of Alabama
If our patients require hospital admission for inpatient medical care they are admitted to Children's of Alabama where they will receive outstanding care by their exceptional physicians and staff.
Vaccine Policy
Our current policy regarding vaccination is that your child's immunizations must
begin by the 2 month well-child visit and that their immunization schedule must fall
within the recommended immunization schedule by the CDC and the AAP.
Click here to download our vaccine policy statement.
Insurance and Billing
Please call us for information specific to your insurance company and plan. Please notify us immediately if your insurance has changed, so that we may make certain your claims are sent to the appropriate company. We accept most insurance carriers.
Payment Options
We accept checks, cash or credit cards. Please see our office manager for details. We are happy to file insurance for your reimbursement as long as you are free to choose your own pediatrician.
Financial Policy
Professional fees are due at the time that your service is rendered. Your co-payment and payment for non-covered services is expected on the day of your child's appointment.
There is a $30.00 fee on all returned checks.
Notify our office manager immediately if you need to make special financial arrangements with us. An account overdue 90 days may be referred to our attorney for collection and you will be responsible for any collection or legal costs incurred to us in addition to your outstanding balance. Once accounts are turned over for collection the families will no longer be able to continue as patients of Alabaster Pediatrics.
DIVORCED PARENTS: In keeping with our policy, the person who brings the patient in for his appointment is responsible at the time of service for the co-payment and any other non-covered expenses. We will provide documentation of charges to either parent upon receipt of appropriate written authorization.
HIPAA
Alabaster Pediatrics is dedicated to complying with the federal Health Insurance Portability and Accountability Act or HIPAA.
HIPAA addresses the privacy and security of patients' confidential health information.
Notice of Privacy Practices - To help us comply with HIPAA, please read our Notice of Privacy Practices that explains how health information about your child is kept confidential and secure. It also describes your child's HIPAA rights.

Click here to read our Notice of Privacy Practices
HIPAA Authorization Forms -Your child's health information is confidential. Therefore, Alabaster Pediatrics must generally receive your written permission before releasing this information. HIPAA required forms are available in our office.
Please call our office with any questions regarding your HIPAA rights and we will direct you to our HIPAA compliance officer.